Rates of Thailand airport pick-up and transportation service:

1. All rates are in Thai Baht inclusive of 7% government taxes and service charges
2. Comfortable new air-conditioning vehicle
3. Professional driver with basic English speaking
4. Rates are inclusive of gasoline and toll way fee


Confirmation of Booking


Making an online reservation is easy. Our online booking engine is simple way to book your transportation.

1) Select your departure and drop-off location, number of passenger, luggage, travel date and then press 'next'.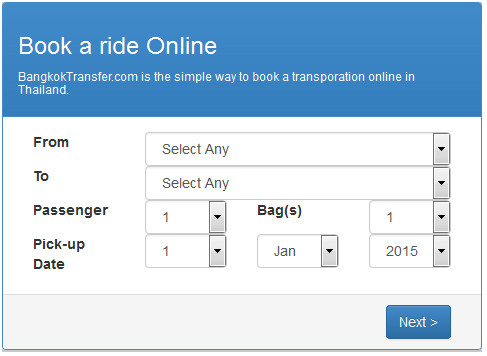 2) System will show quote in Thai Baht per vehicle per way inclusive of gasoline, toll fees. You can easily book one way or roundtrip journey.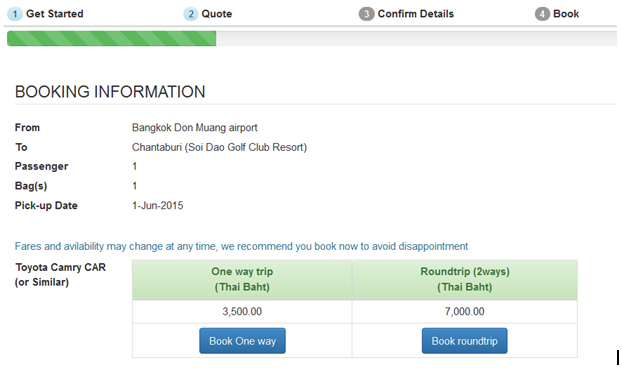 3) Next step, enter your personal information, flight information, pick-up and dropoff location.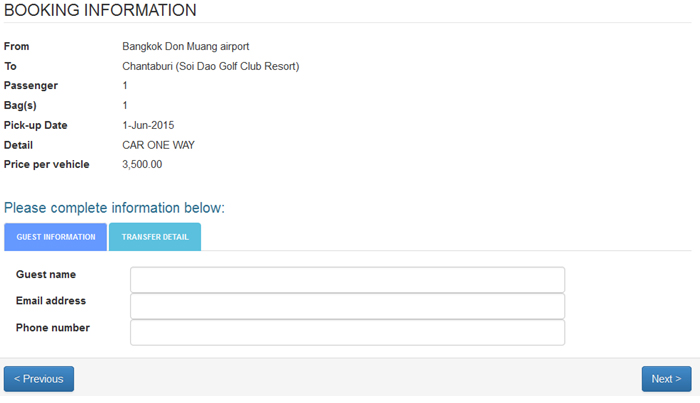 4) After summit information, system will be summary of your booking details. Please review it and press 'complete booking -payment by Visa/Master card'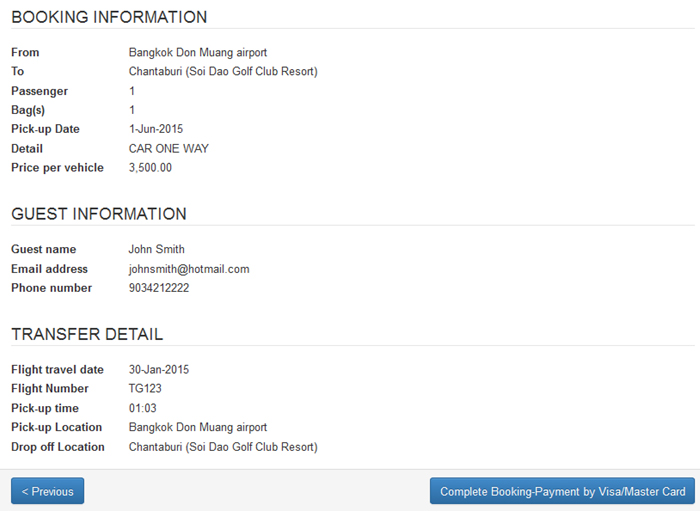 5) Please process payment by credit card.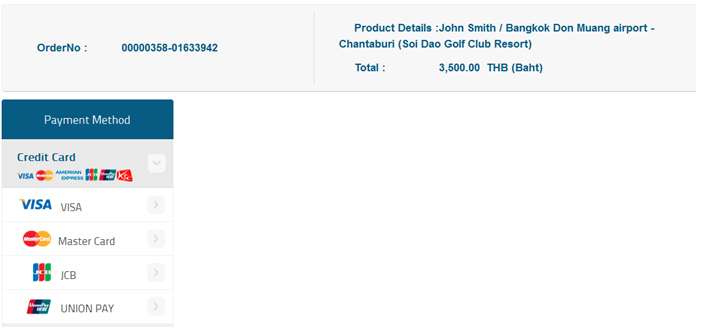 6) Once payment completed, your booking is confirmed and confirmation will be sent by email.
You could also send an e-mail to request rates and/or make booking (full name, travel date, arrival and departure flight detail) at info@BangkokTransfer.com.
Contact information:
Tel. + 66 (0) 2 539-6106, +66 (0) 81 441-5527, +66 (0) 89 078-3828
Fax. +66 (0) 2 932-7008

Credit card Online Payment Gateway:
All Bookings are on prepayment basis. We accept payment by Visa, Master:

VISA and Master Card : Online -



You can safely shop at www.BangkokTransfer.com by using your VISA and MasterCard from any issuing banks. We will email booking confirmation together with secured online payment site, the system will be linked to our representative bank's web page where your credit card information must be filled and processed. Credit card information will be encrypted and transferred under secured server. Once the transaction is approved, the system will show 'COMPLETED' page. If page show 'rejected', please contact your bank to authorize charges.

Credit Card Payment Security
Krungsri e-payment gateway Safe and secure
A peace of mind is provided through our proven state of the art technology with advanced security measure.

1) 2 Firewalls
Firewall systems are to detect and prevent any form of illegitimate activities on our network systems. Moreover, there are regular security reviews of our systems by our internal system auditor as well as external security experts.
2) SSL (Secured Socket Layer) 128 bits VeriSign
All information transmitted over the Internet is encrypted using the 128 -bit Secure Sockets
Layer (SSL) protocol to ensure data confidentiality and integrity. SSL is a secure way of
transferring information between two computers on the Internet using encryption.
3) Encryption and Decryption
Strong end-to-end encryption is also adopted within the bank's computer networks and
resources.
4) Fraud Prevention System to identify the fraud level
The intelligent system can work smart to prevent fraud transaction by matching Credit Card
Information.
5) Block/Unblock the risky country & Card Type acceptation
By merchants' need, you can select any countries for block or unblock to do transaction with you.
6)


and

More safely, Krungsri e- Payment also supports 3-D secure innovation: VbV: Verified by Visa Card, MCSC: MasterCard SecureCode andJ/Secure, helping merchants to ensure online shoppers that their private information is double-protected.
Cancellation & Amendment policy:
- Any cancellation or amendment of transportation should be received at least 3 working days prior to service date

- If notification of cancellation received more than 3 working days (not including Sat, Sun & Public Holidays), a cancellation fee of 15% of transportation cost plus bank fee 3.5% (if pay by credit card).

- Non-refundable if notification of flight or date changed is received less than 3 working days prior to arrival date or in case of no-show